What better way to start the new year off than taking a honeymoon in January. Whether you're looking to escape the winter weather by heading somewhere warm and tropical, or you're looking to celebrate the weather and find a snowy paradise, we have some suggestions for you. These are five of our favorite spots for a January honeymoon that span a range of interests, budget and weather. The world awaits!
The Maldives
Calling all swimmers, snorkelers, divers, beach lovers and beach loungers searching for a honeymoon location that highlights this said beach life, you two belong in the Maldives. January is one of the driest months in this small island nation in the Indian Ocean. It's also one of the cooler months which sounds contradictory for a beach honeymoon, but the hot months here can be a bit too hot for most people to feel comfortable. Ocean visibility is great in January so your water activities will be met with clear sparkling blue water – the ideal conditions for spotting all the sealife the Maldives has to offer. Manta rays, whale sharks, and enough tropical fish to leave Jacques Cousteau impressed. Even if you prefer to stay above water in a boat, paddle board, or kayak, the clarity of January's ocean will leave plenty for you to see without getting your face wet.
Spanning across the equator, the Maldives is made up of 1,192 islands – some of which are private to the resort on the island. If you're looking for secluded beach life on a honeymoon, this is exactly where you should be. And if you're intimidated by the price tag of a vacation in the Maldives, don't be. The islands have some great deals, and we can help you find the best value for your money.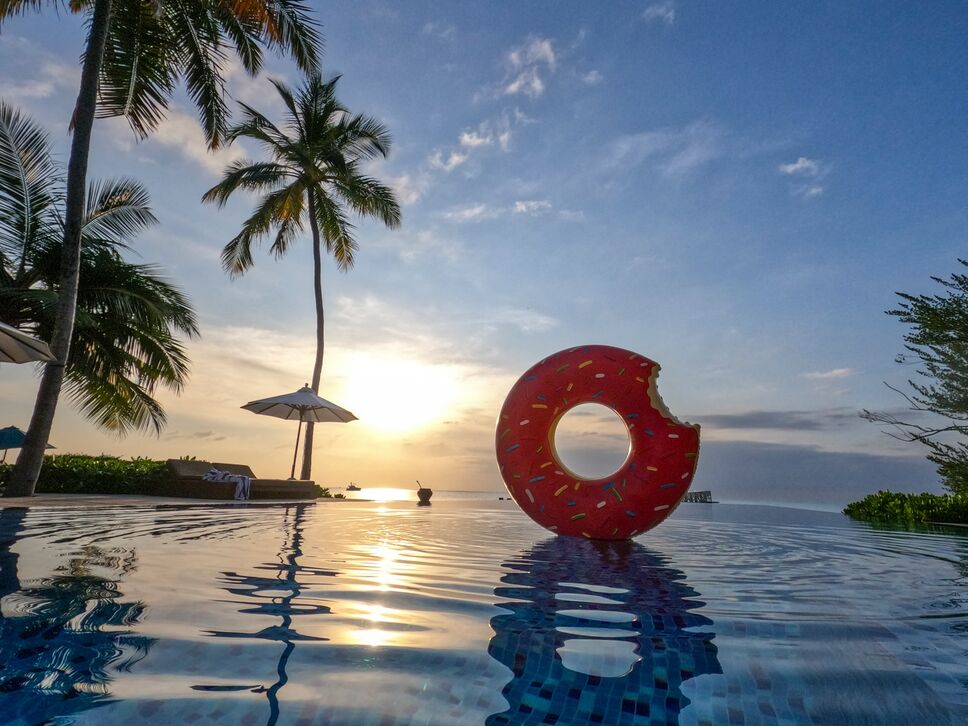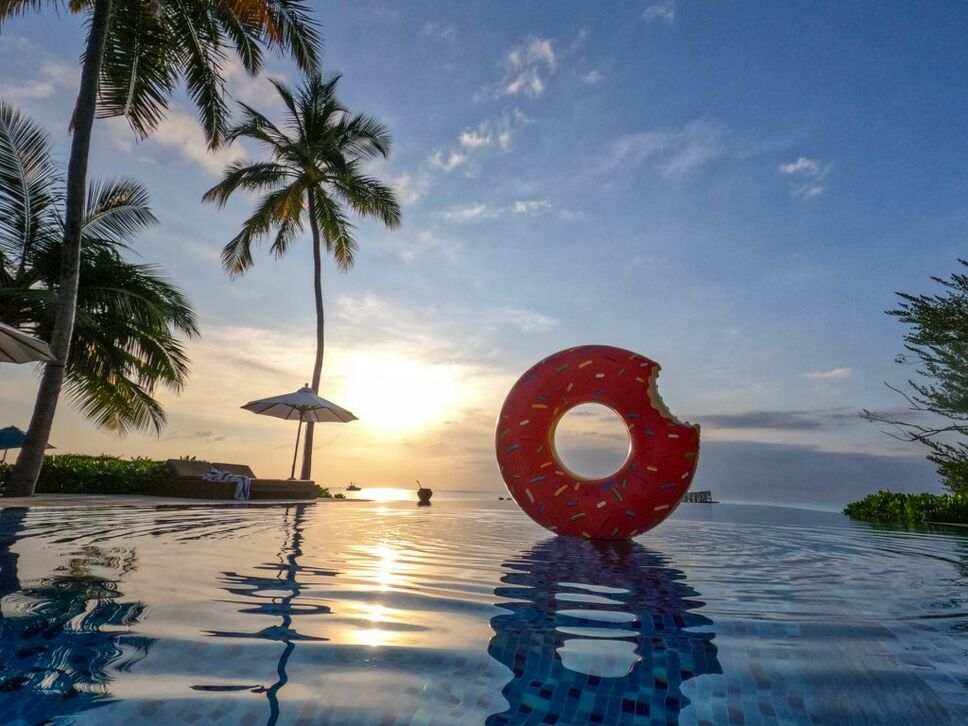 If you head into Google maps, you'll notice that this epic honeymoon is not near the US. It's actually really far away. Your journey there will surely have a layover (unless your destination wedding is in Asia). Your layover city may be one of the following: Istanbul, Dubai, Frankfurt, Abu Dhabi or Singapore. If you're shocked and appalled at the time and energy it's going to take to get to the Maldives, we highly recommend you turn your layover city into a mini honeymoon and stay a night or two. Two destinations is (almost) always better than one!
Las Vegas
While this iconic US city is well known for couples who opt for an elopement, we love it for a honeymoon as well. January is one of the quietest months in this typically buzzing city. Vegas temps in the winter are mild with some days getting into the mid-60s, but snow is not totally unheard of, so check the weather before you start packing that suitcase. Fair warning: the pool at your resort is probably going to be closed for the season. But the cooler weather and smaller crowds means you're in for great deals. Not to mention less competition for the suites you want to honeymoon in and great seats for the famous Vegas shows. And you're more likely to get a great deal on airfare.
Onto the highlights of a Vegas honeymoon. The suites. Vegas knows how to do lavish suites that will make you feel like royalty. The dining is equally as impressive. Jazz bars serving fancy cocktails that must be consumed with a pinky up, insane buffets, international cuisine like no other city. Vegas has some of the best dining any US city has to offer. And of course the entertainment. Cirque du Soleil shows are always a night well spent (Zumanity at New York-New York has "honeymoon" written all over it), The Blue Man Group and Absinthe outside of Caesar's Palace are some of our favorite picks.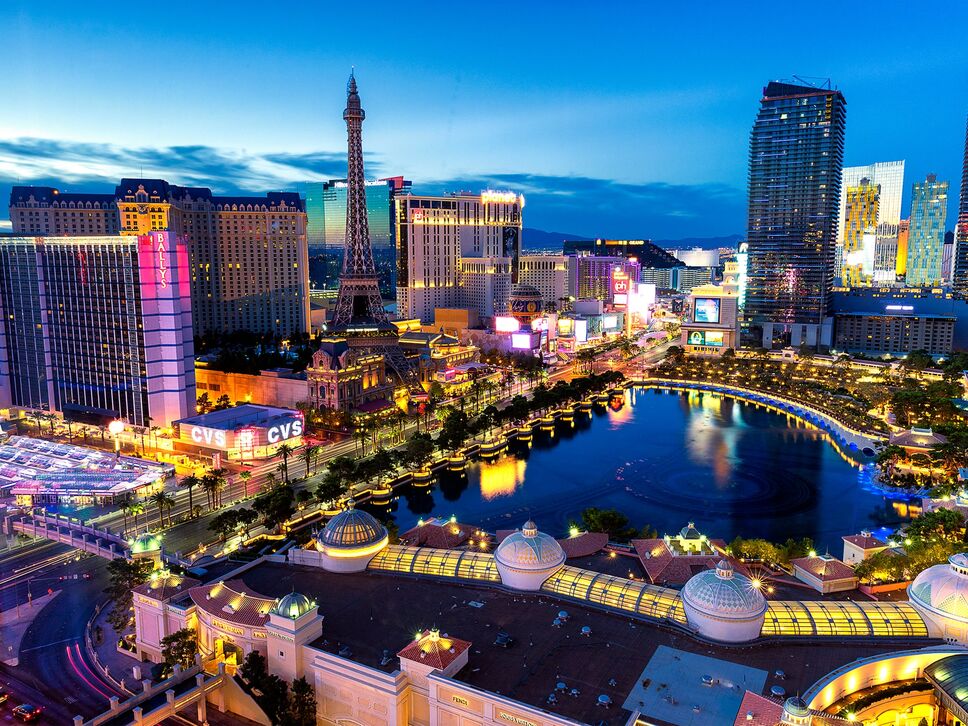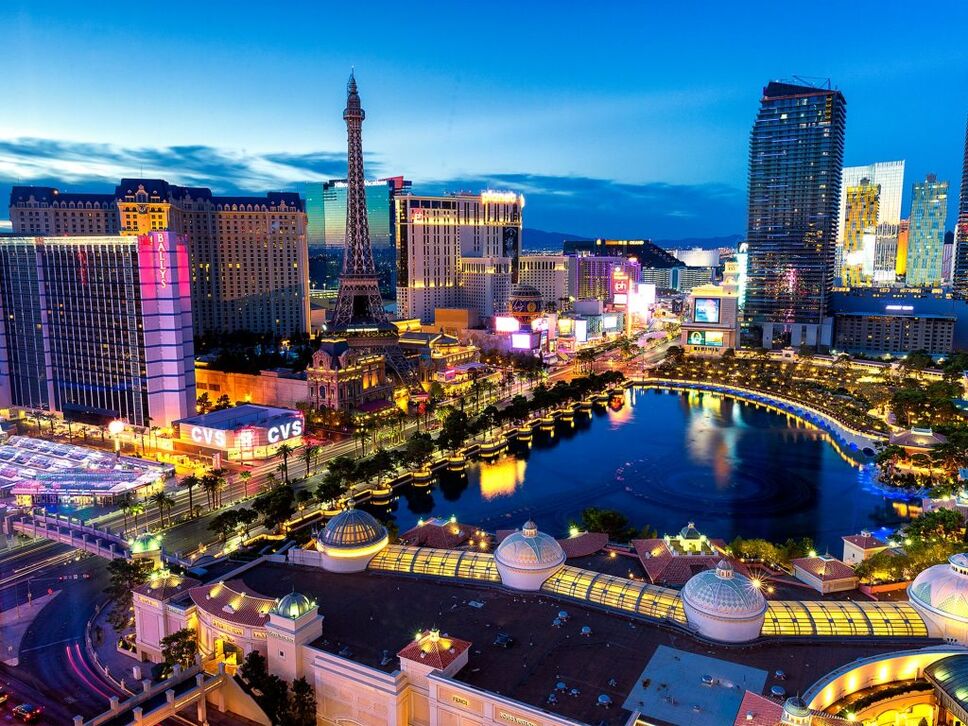 Don't forget to take a gondola ride at the Venetian for a memorable romantic experience on your honeymoon. And when you're ready for a break from city life, take a day trip to the Valley of Fire state park, the Hoover Dam, or head to Lee Canyon for skiing or snowboarding – only about 50 miles away from downtown Vegas.
Chile
If your January honeymoon wants nothing to do with winter, simply head south of the equator where January is a peak summer month. This means planning in advance is key since it's peak tourism season, but it's oh so worth it for the splendors you'll find in Chile.
The adventurous honeymooners will want to head straight for Patagonia mountains and spend as much as possible in Torres del Paine National Park. The park has countless hikes, but he W Trek quite special. This trek is 62 miles long and takes most people 4-5 days to complete. This trail is well established with campsites and hotels dotted along the clearly marked trail. Most of the campsites even have a shop and a restaurant on site, so you'll be well nourished and well rested – ready for the next day's hike.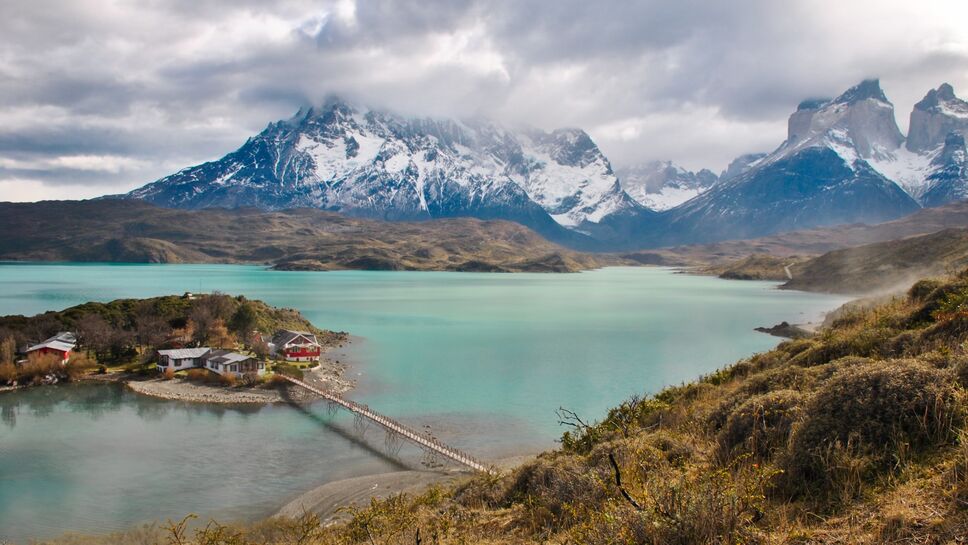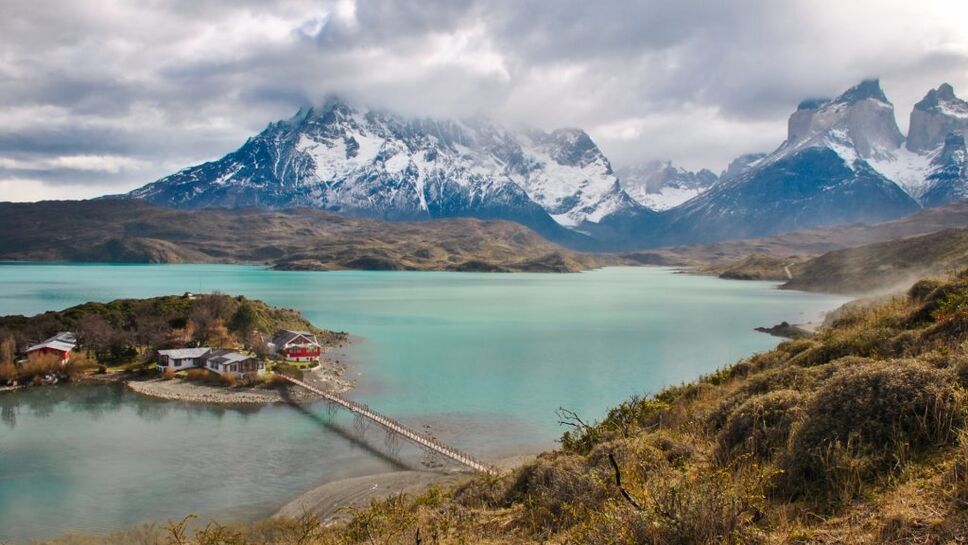 For those less inclined to adventurous outdoor life in Chile, head to the luxurious wine area of Casablanca. It's just as dreamy as it sounds and not far from the capital of Santiago. Here you can leisurely bike through vineyards, head to the spa and take a day to explore Viña del Mar beach. Chile will spoil you on your honeymoon with incredible fresh seafood, wines, fresh produce and barbecues.
St. Lucia
For those searching for an all-inclusive beach honeymoon, but don't want to repeat the vacation taken a few years ago, we have the perfect solution. This is as luxurious as a honeymoon gets and it will certainly leave you a bit spoiled. But if you're ok with getting spoiled on your honeymoon, your destination is Sandals Grande St. Lucia to stay in one of the lavish overwater bungalows.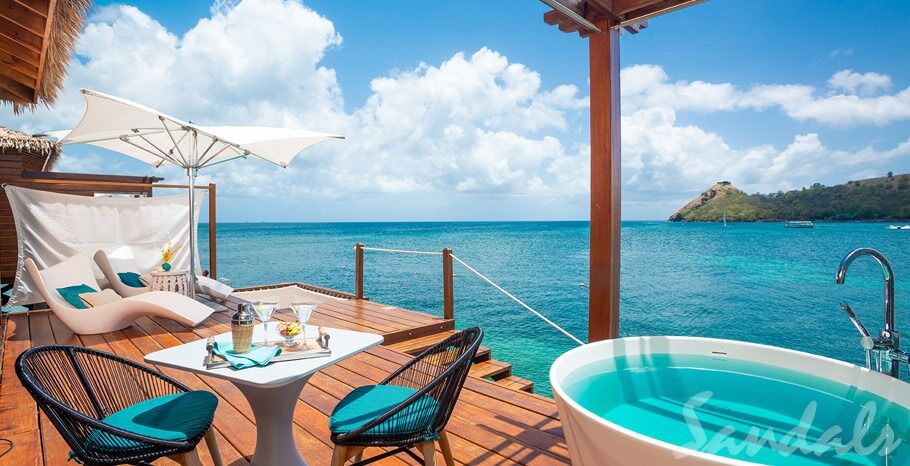 With an average high temp of 84 and low of 75, we love the month of January for a St. Lucia honeymoon. But do keep in mind, January is high season for tourists, so be sure to get planning far in advance. However, with a private overwater bungalow that includes your own two-person soaking tub on your balcony, you might not notice anyone else staying on the property! Plus you won't need to be waking up early to snag chairs on the beach because you know, you're already living over the water.
These Tahitian-style bungalows also come with a butler so you're perfectly taken care of at every moment of your stay. If you decide you'd like to leave your bungalow (we don't blame you if you feel like staying in!) go ahead and grab a paddle board or a kayak and explore the ocean, go scuba diving, play some golf, or attend the beach BBQ. Sandals has three resorts in St. Lucia and your stay at any of them means you have unlimited access to all of them with complimentary transportation provided. Go ahead and take a tour of the area!
This very well may be the pinnacle of a luxurious and relaxing honeymoon in paradise in January.
Salzburg, Austria
If you're honeymooning in the winter with the intention of celebrating the winter weather, the European Alps will do the job just fine. Actually, it will do a magnificent job. The charm of the Salzburg area is undeniable. The mountains nearby are excellent for winter sports and the ambiance of snowy Europe is unforgettable. Not to downplay the hearty Austrian winter dishes and wine you'll be enjoying because that will absolutely be worth the trip. The downtown Salzburg area is walkable and lined with small shops, restaurants, bars and museums. The city center itself is a UNESCO World Heritage Site. It's also the birthplace of Wolfgang Amadeus Mozart and has significant architectural influence from Italy. So while you'll be in Austria, the buildings may make you feel like you're in Italy.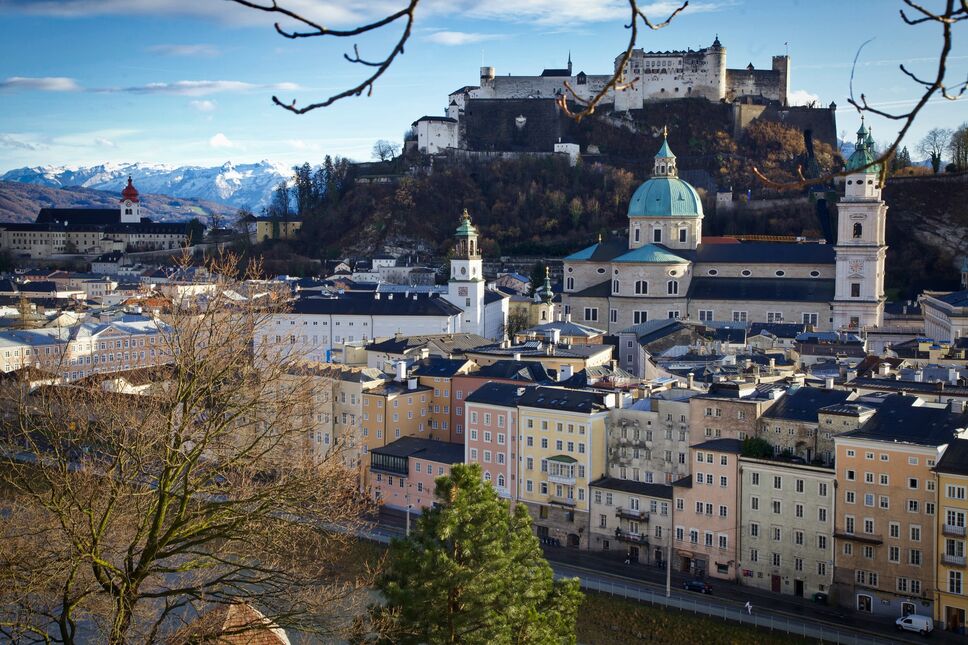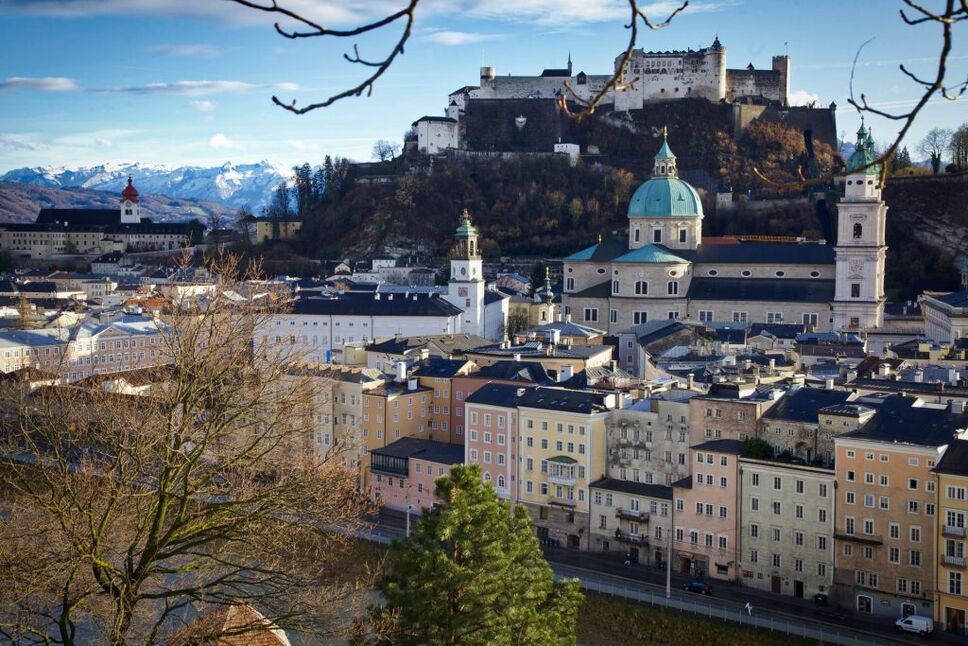 January typically sees 15 days of snowfall, so you're bound to find yourself on a few romantic snowy walks along the Salzach river that runs through the center of town.
For snow sports, you'll have many options of nearby resorts to spend the day. Be sure to look into night tickets. Those are often a good discount and a fun change from the typical day on the mountain. Most resorts also have a sledding section that will be the coolest sledding you've ever encountered. We're talking sledding runs that last for over 10 minutes, not just some small hill! And of course, Austrian ski resorts know how to excel with cuisine on the mountain.
Planning your honeymoon for January?
We'd love to help you find the best destination – no matter what your budget, time frame, or desired type of trip. Start the new year off right by celebrating your marriage and future together! Send us a message and we'll happily start planning every detail for you so you can focus on other parts of life, like your wedding and getting through the holidays without too much swearing and/or eggnog.
Similar Posts: