Are you a beach person? Someone who feels the world's stress melts away when you're gazing into emerald waters while standing on sugar sand? Someone who always looks for the resort that is directly on the beach, rather than across the street from the beach? Do you have Google flight alerts set for every tropical beach you love? If you answered yes to any or all of these, your next vacation should probably include an overwater bungalow. That, my friend, is as close as you can get to the water – on top of it. And when you feel like getting in for a dip, all you have to do is step outside your front door. Or back door leading to the patio. An overwater bungalow gives a whole new meaning to a morning dip.
So why should you consider a vacation with an overwater bungalow and what should you expect? We'll dive into the details here of our favorite Sandals over the water bungalow experiences that are sure to become your new #1 favorite vacation destination. It's the kind of vacation that leaves you wondering how any other vacation could possibly compare to this one (in a good way).
Why you need an overwater bungalow
The Sandals Over The Water Collection is located at three of their resorts – Sandals Royal Caribbean and Sandals South Coast, both in Jamaica, and Sandals Grande St. Lucian. Given the tropical paradise of both Jamaica and St. Lucia, we're already swooning over vacations in these locations and the resorts just make the deal even sweeter. Honeymoon, anniversary trip, girls week away, or as an engagement trip – we love these bungalows for so many occasions.
Here's a full tour of the Sandals overwater bungalows in South Coast, Jamaica.
Obviously we love the room because what's not to love about it? But on a more informative note, this resort is a whole lot more than excellent accommodations with stellar service. It's set on two miles of pristine beach which means you're going for a lot of sunset strolls in the sand. This also means your workout routine just got a whole lot better while on vacation. There's also a fitness center if you prefer a gym, and classes like couples stretching, tennis lessons, and pool workouts which are all included in the price of your stay.
The overwater bar is a can't miss here, and if you're looking for a destination wedding location, look no further than the overwater chapel.
The Sandals South Coast is all-inclusive leaving it up to you where to wine and dine and what activities you'd like to enjoy at any given moment. A morning snorkel that leaves from your patio, a romantic kayak adventure, heading to the swim-up bar for some refreshment and a bottle of wine at sunset on your balcony or simply enjoying your beautiful bungalow – soak it up here because you're probably never going to want to go home.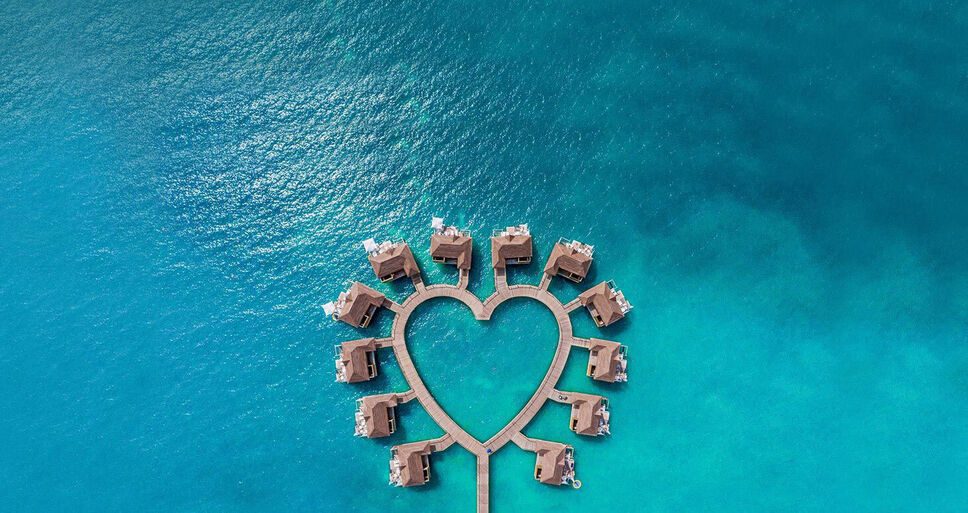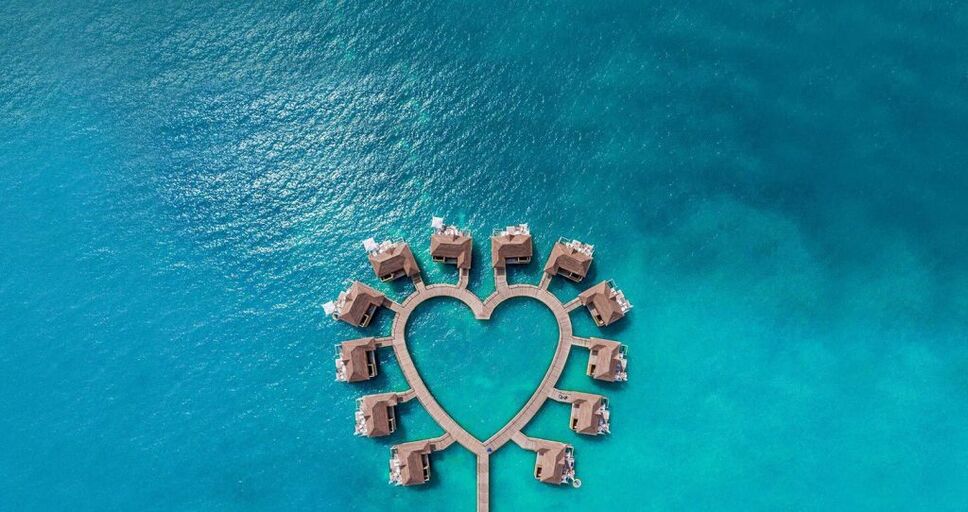 Bonus: Sandals provides round trip transportation from the airport to the resort so you can start your vacation the second you get on the plane instead of wondering which taxi service at the airport doesn't rip off tourists. Direct flights are available here from almost every corner of the U.S. and you may be able to score a cheap flight.
Overwater villas in Montego Bay, Jamaica
Paradise in Montego Bay is a great spot for your overwater villa experience. The Sandals Grand Caribbean resort has some of our favorite bungalows in the entire world – thanks to their Love Nest luxury suites that include an infinity pool on your deck over beautiful clear water. Don't feel like getting out of bed? No problem. You have epic views straight from your pillow over your pool and the sea beyond. Step off the end of your bed onto a glass floor to see the fish below. These rooms also come with butler service, so ya know – truly a vacation where you don't have to lift a finger!
Feel like adventuring out without the hassle of leaving the resort? Sandals Grand Caribbean has its own private island to spend the day "away." Hop on the dragon boat (because a normal boat just wouldn't do) for the short ride to Sandals Island. Hang out in a cabana on the sandy shores, visit the swimming pool's swim-up bar, and have a Thai feast. Don't miss out on the overwater hammocks either if you need a bit of relaxation.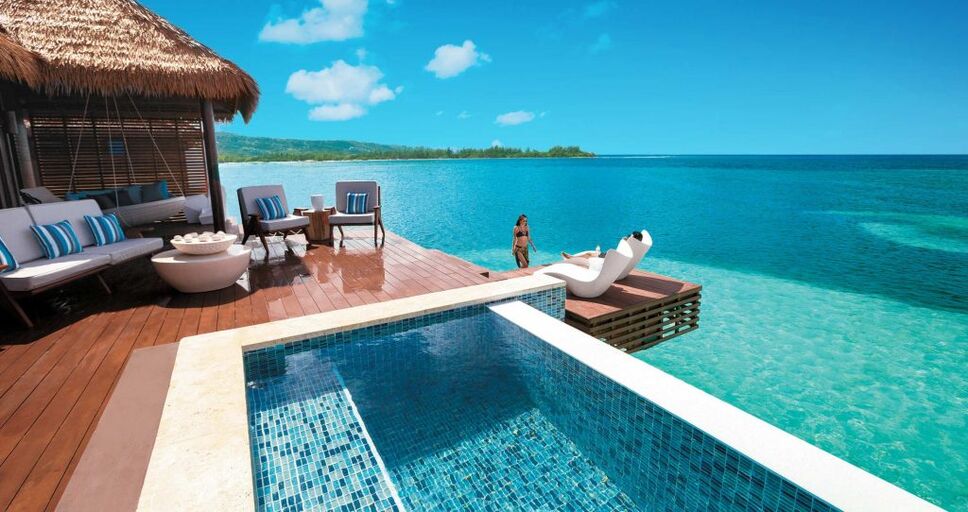 With this being a private resort island, not only are you well taken care of, you don't have to worry about a crowded beach either or what time you need to be awake and out of your room to grab a lounge chair on the beach.
After dark the tiki lights are lit and the real party begins – sip cocktails with your loved ones while fire dancers entertain for the evening. Be sure to check the resort schedule for reggae afternoons and tropical cocktail parties if you're feeling social.
If you prefer a night in, (no one will blame you because jeez! Just look at it!) you could dine like this:
Tahiti-style overwater bungalows in St. Lucia
Who can resist St. Lucia? The Sandals Grande St. Lucian is located on its own peninsula and the overwater bungalows here are outfitted with soaking tubs on the deck, overlooking tropical heaven. Bungalows come with butler service, making your vacation truly special. Have you ever stayed in a resort with a pillow menu? You will here! Pick your favorite or try out several because you can never have too many pillows to choose from.
Your bungalow here has an extended sun patio (shade included too, if you prefer). From here take a dip into the clear water, take in the view of the volcanic mountains, soak the afternoon away in your tub, and dine at your private bistro table from an extensive menu your butler will be happy to assist with. Here there's no need to dress up for happy hour, because you don't have to leave your room.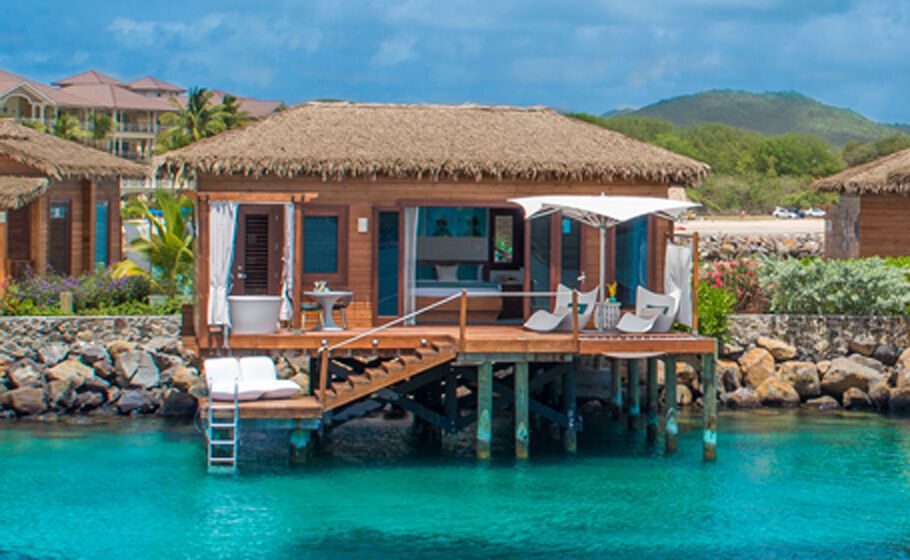 Sandals has three resorts in St. Lucia, so if you're up for some exploring, or perhaps an impromptu cocktail crawl, head over to the other two for a change of scenery – transportation between the three resorts is complementary and all of your amenities and inclusions are good at any of the three Sandals resorts.
Like the idea of an overwater bungalow getaway?
We thought you might. Get in touch with us and we'll get you booked with the perfect vacation staying in an overwater bungalow or villa. And please send us pictures while you're there so we can all enjoy your vacation!
Similar Posts: