At Awaken Travels, we understand that you want the most value for your money when planning your vacation. That's why we carefully curate and recommend resorts and locations that not only meet but exceed your expectations. Our team of travel experts work with you to create a custom itinerary that includes all of your desired activities, sights, and experiences. With Awaken Travels, you can rest easy knowing that every detail of your trip has been thoughtfully planned and executed to ensure the most memorable and stress-free vacation possible.
Destination Wedding Planning
Your wedding day should be everything you've ever dreamed of and more. At Awaken Travels, we specialize in creating custom destination weddings that are tailored to your unique style and preferences. We'll help you choose the perfect resort and location for your special day and work closely with the onsite wedding coordinator to ensure that every detail is taken care of. Our team will handle all the travel arrangements for you and your guests, making the entire process stress-free and enjoyable. Trust us to plan the wedding of your dreams so that you can focus on creating memories that will last a lifetime.
At Awaken Travels, we believe that your once-in-a-lifetime event deserves service to match. Our team of travel experts has over 10 years of experience in planning and organizing group travel, from family reunions and destination weddings to corporate retreats and conferences. We offer personal concierge service to help you with every step of the planning process, from choosing the perfect destination and resort to booking flights, transportation, and excursions. Plus, ask us how the group leader can travel for free! Let us help you create unforgettable memories with your loved ones or colleagues.
What Our Customers Are Saying
At Awaken Travels, we're here to make planning your dream vacation as easy and stress-free as possible. We understand that everyone has unique travel needs and preferences, which is why we offer a variety of convenient ways to get in touch with us.
Whether you're a local or located across the country, we can work with you to plan your next adventure. We're a travel agency with locations in Arizona, Tennessee, and Oregon, but we work with clients all over the USA.
You can reach us by phone, email, or text, whichever method is most convenient for you. We also offer virtual consultations for those who prefer to meet with us online. If you happen to live near one of our agents, we're happy to schedule an in-person meeting as well.
Our experienced Travel Specialists are ready to help you plan your dream trip. No matter how big or small the trip, we're here to guide you every step of the way. Click here to get started and experience the ease and expertise of Awaken Travels.
We want to know all about your travel plans! Our team of travel experts will guide you through the process of planning your dream vacation. We'll start by asking you a few simple questions to get an idea of what you're looking for in a trip. We'll ask about your travel style, preferred destinations, spending plan, and any special requests or needs you may have.
From there, we'll take your preferences and use our extensive knowledge of travel to create a customized itinerary just for you. Whether you're seeking a romantic getaway, a family vacation, or an adventure-filled trip, we've got you covered. We can make reservations for you at top-rated restaurants, plan activities and excursions, and even arrange for a day of pampering at a luxurious spa.
We take care of all the details so you can sit back, relax, and enjoy your trip. Our goal is to provide you with a stress-free travel experience that meets or exceeds all of your expectations. So, whether you're looking for a quick weekend getaway or a once-in-a-lifetime adventure, we've got you covered. Let's work together to make your dream vacation a reality!
At Awaken Travels, we understand that the planning process is just one part of creating the ultimate travel experience. That's why we handle everything from start to finish, taking care of every detail so you can simply pack and go. Whether you're embarking on a solo adventure or traveling with your family or group, we make sure every aspect of your trip is carefully planned and executed.
And our services don't end once you've left for your trip. We're here for you every step of the way, ready to handle any unexpected issues that may arise. We have extensive knowledge and experience in the travel industry, and our team is equipped to handle any situation to ensure your trip is as stress-free and enjoyable as possible.
So don't worry about a thing – just pack your bags and let us take care of the rest. With Awaken Travels, you can sit back, relax, and enjoy the journey.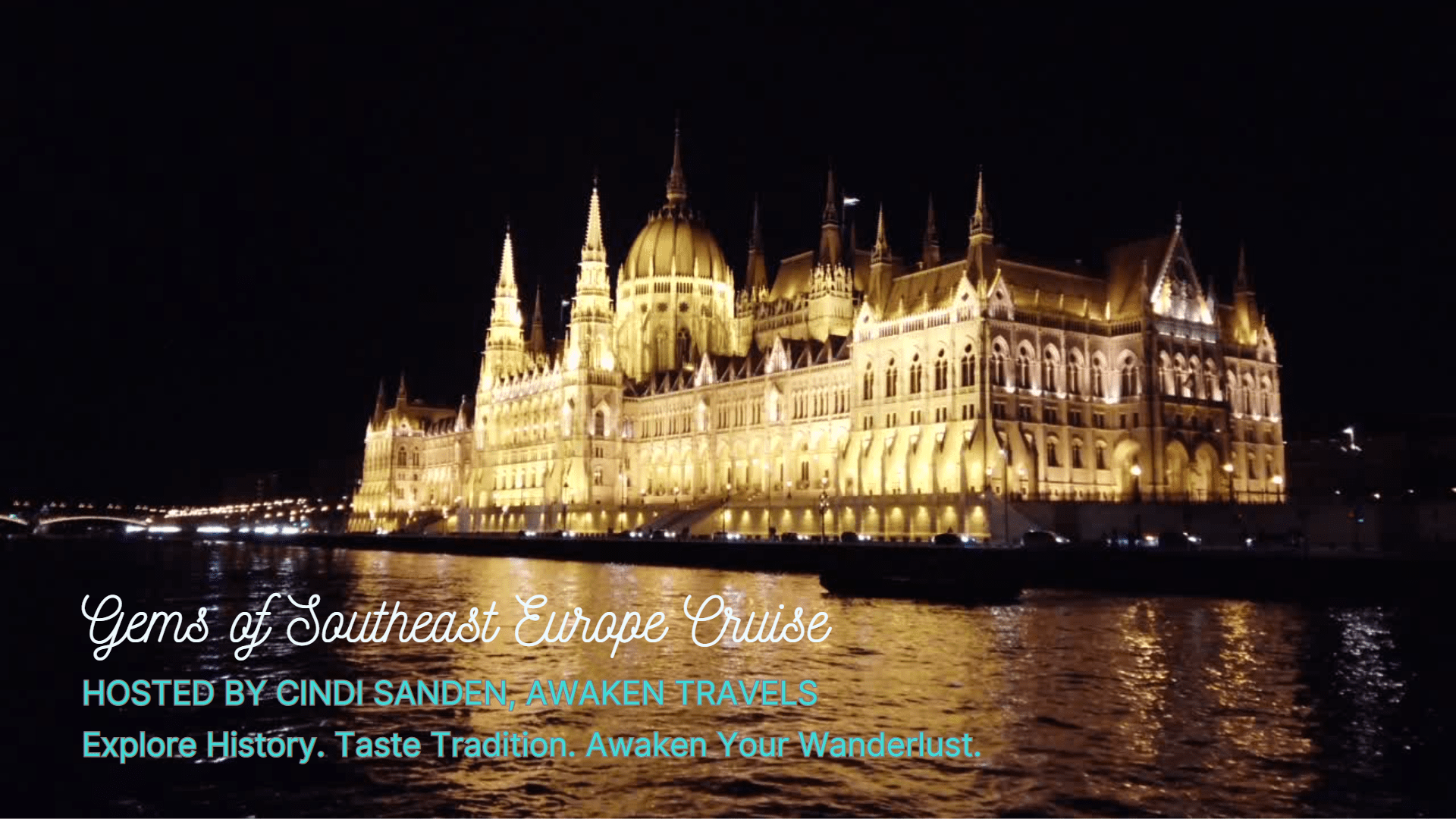 Journey with Cindi Sanden, owner of Awaken Travels, on an immersive, 7-night river cruise through the heart of Southeast Europe. Traverse the majestic Danube, discovering the rich cultures and stunning landscapes of Hungary, Croatia, Serbia, Bulgaria, and Romania. Enjoy luxury accommodation, delectable culinary experiences, and unique cultural explorations in this once-in-a-lifetime adventure. Come, awaken your senses in the gems of Southeast Europe!
Read More »