Are we there yet? How much further? Are we going to be in the car all day? Someone needs to pee…again. Road trips can be the best vacations or sometimes the vacations we need a vacation from. But when done right, a road trip can be exactly what you were hoping for on a vacation. Seeing new parts of the country, new foods, resorts, and experiences – all at your own pace. Here are our top 15 tips for the perfect road trip.
Get your car checked out
You're on your way to Grand Canyon National Park when the car starts making clunking noises. Nothing can ruin a road trip faster than car trouble, potentially significantly altering the duration or course of your planned trip. A week before you head out, take the car in for a checkup to make sure the oil is ready to clock some serious miles, the tires have optimal pressure, the brakes are in good shape, and the battery is healthy. Don't forget to check that all lights are working, too. Also, if you happen to be travelling outside of your usual climate zone or perhaps through some mountain passes, consider glancing at your wiper blades, test your heat and air con, and check if you might need tire chains.  
Pack a first-aid kit
While we totally think a small first-aid kit should come with you on every adventure, a first-aid kit should definitely be packed into the car for a road trip. 
If your first aid kit is a few years old, be sure to check out the contents and expiration dates of any medicines. You never know how many band aids have been taken out over time without being replaced.
Plan an intelligent route
If you've ever spent hours on Google Maps searching for somewhere fun to stop on an eight-hour drive, we have the solution for you! One of our favorite apps to use for summer travel is Road Trippers. That time spent zooming in on Google maps is a thing of the past with this app since it does it for you. Choose your route, and Road Trippers will let you know what cool things are located along the way.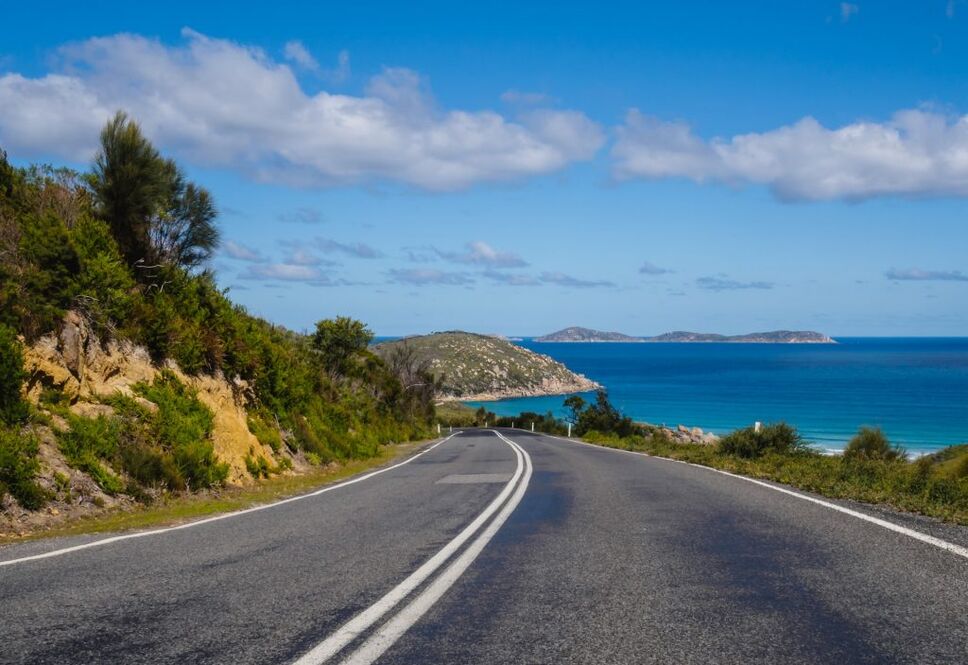 Plan which stops you'd like to make, where you should have lunch, and never miss that crazy ridiculous monument you would have never known you needed to see!
Pack reasonably
Checking your luggage into the car is still free! Phew! But don't take this as a free pass to go nuts with the packing. A well-organized car with minimal luggage makes road trip life much easier. Be sure to only pack what you need, and consider whether you'll be doing laundry along the way or if you'll need to pack for each day of the trip. Stash away a dirty clothes bag, as well, so it's easier to keep track of what's clean and what's dirty.
Check out our guide to packing less, if you're on the struggle bus when it comes to packing efficiently.
Sit pretty when you're driving
Slouching is not allowed on this road trip! Not to be no-fun, strict parent, but really, driving for hours with bad posture is gonna hurt eventually. And in turn that pain will affect the quality of your trip. No one wants to hike a national park with a kinked neck and sore back. Before you head out on your road trip, make sure your seat is in a comfortable and ergonomic position. If your seat doesn't make this possible, look into lumbar pillows to support your back or your bum. While you're at it, grab a neck pillow for any passengers who might be taking cat naps en route.
Check in with your passengers about desires/expectations
Maybe this trip is you and your bf, or your honey, or your honey and three kids. Whoever is taking this journey with you should have a say in the route and plan. As far in advance as possible, hold a road trip meeting to go over desires and wishes. Going over this before much planning occurs allows for more wiggle room to accommodate everyone's wishes, or at least make sure everyone knows before getting into the car that "No, we will not be stopping at Disneyland this trip, honey. It's 13 hours in the wrong direction."

Remain flexible
Now that you're trying to make sure everyone is happy, be prepared to change the plan, sometimes at a second's notice. Like most vacations, life happens and sometimes the plan crumbles entirely. But that's not always a bad thing. Sometimes "ruined" days turn into the best. And if you have us on standby, we're always available to step in to help save the day and make a new plan!
Set budget expectations
While checking in with passengers about expectations and desires, be sure to cover the budget, too. A road trip can be incredibly budget-friendly, or it can be a tour of some seriously luxury resorts and spas. It can also be a pleasant mix of both. Two nights in a tent followed by a few at a swanky all-inclusive resort. It's all up to you and your budget. Discuss this before making any big decisions about where, when, and duration of the trip. 
Also cover how gas costs will be split. Having clear and open communication up front about splitting costs will avoid any conflict or confusion in the future.
Play (music and podcasts) all day
Chances are high someone in your road trip party is big into music, podcasts, or audiobooks. Even better if it's all three. Ask them, or someone, in your car to volunteer to DJ. Grab suggestions for music genres, moods, podcasts everyone will enjoy and audiobooks. Tunes from your road trip may turn into some of your favorite songs that bring back great memories. Or, if one member of your party needs their own soundtrack, order some noise-cancelling headphones ahead of time.

Snacks for life and hydrate
Did you even take a road trip if you didn't consume 351 snacks en route? Pack a cooler to keep drinks and water cool, and a separate container or bag to house all the snacks. Keeping it neatly in one place will make finding the treat you're looking for an easier task instead of ripping the packed car apart to find the bag of dried fruit that you swore was in the front zippered pouch of the suitcase that's on the bottom of the pile. Don't forget to hydrate!
Drive during daylight if possible
This might not always be possible, but do your best to drive during daylight hours. Not only will you see more of the awesome scenery the US has to offer, it's less likely you'll be drowsy while driving. Missing a crucial exit is infinitely easier to do in the dark.
Be smart about when you're getting gas
Just like a blown tire or getting lost for hours, running out of gas is definitely a downer. And it's entirely avoidable, so don't let it happen to you! You can map your route on gasbuddy.com to locate the stations along your way and even check on prices. As a rule of thumb, unless you've just filled up, if you're stopping near a gas station, it's best to top up. Some of America has very few gas stations, and not all are open 24 hours a day. Better to be prepared and keep a (mostly) full tank if possible.
Stop to move around
If you have days where the goal is to get from A to B as quickly as possible, there's a strong pull to power through without stopping. While observing speed limits, we totally understand the lure of getting out of the car as soon as possible. However, be sure to stop every few hours to stretch and move around a bit. 

Download maps
Until the globe gets connected to satellite internet, your road trip may encounter some areas with no cell reception. Your pre-loaded map will still get you there, but if you veer off course, take a wrong turn, or want to stop somewhere off-route, it's not going to be able to correct for the diversion. Downloading the map while you're on WiFi or a data signal makes sure you'll always be able to tell where you are and how to get back on course. There are even a number of great offline GPS apps available for you as well, but you can't download them once the signal is gone, so plan ahead on this one.
Charge as you drive
Before you head off, outfit your car to charge any devices you'll be using on a daily basis. Phone, headphones, music device, e-book reader – you'll want all of these to be getting enough juice during the drive that you don't have to immediately find a power source once the driving for the day is done. This is especially important if you'll be camping without power.
This also ensures your devices are able to give you maps, directions, snap pictures/video and play music along the way.
Heading out on a road trip?
Done right, a road trip can be the highlight of the year! We're here to help you plan the best route, stop at the best hotels, and get tickets to the best attractions. Let us know what you're planning and we'll be sure to make it as perfect as possible!
Similar Posts: