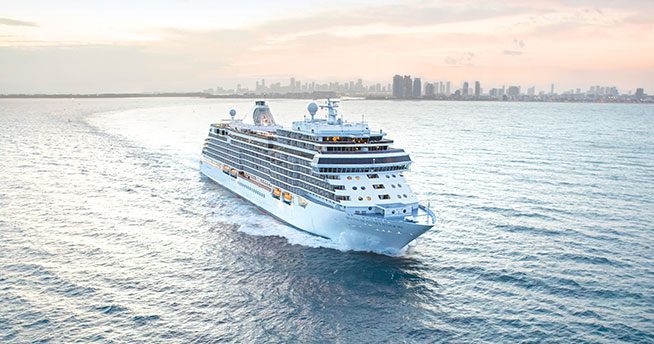 Dive into the Regent 2025-2026 Voyage Collection and explore luxury cruises across global destinations. Embark on an unrivaled journey where you can explore places anew or rediscover treasured destinations. Dive into the vibrant cultures of Madagascar, Asia, and Australia, or indulge in the scenic beauty of the Caribbean, the Mediterranean, Northern Europe, and the South Pacific. Experience culinary masterpieces, exhilarating excursions, and breathtaking landscapes that words can't fully capture.
---
A Personal Invitation from Cindi Sanden: Travel is a story waiting to be lived. The world, with its endless wonders, offers tales in every corner. From the lively coasts of Madagascar to the time-honored ports of Europe, every voyage is an invitation to adventure. With Regent 2025-2026 Voyage Collection, luxury and discovery intertwine, ensuring an experience like no other. As your dedicated travel consultant, I'll be with you every step of the way, tailoring your journey to be as unique as you are. Let's craft your next chapter.
📧 Reach Out: [email protected]
📲 Connect: 541-944-0563
---
ARE YOU READY… TO EXPLORE THE UNRIVALED? From lush forests and sunlit beaches to monumental glaciers and expansive vistas, every destination is a promise of magic. Dive deeper into the heart of locales with extended stays in cities like Tokyo, Doha, and Seoul. Whether you're captivated by the wilds of Madagascar and Antarctica or drawn to the cultural tapestry of global metropolises, find your escape. Return each day to unparalleled comfort, preparing for another enchanting day ashore. Regent 2025-2026 Voyage Collection: 🔗 Explore Voyages
---
Experience The Best With Regent:
AN UNRIVALED EXPERIENCE®: Luxury at every turn.
UNRIVALED SPACE AT SEA®: Experience unparalleled space and comfort.
THE WORLD'S MOST LUXURIOUS FLEET™: A fleet designed for the elite.
IMMERSIVE EXPLORATION: Dive deep into every destination.
EPICUREAN PERFECTION™: A culinary journey for the senses.
PERSONALIZED SERVICE: Tailored experiences just for you.
---
Hear From Regent Guests:
Lorrie S.: "Ending our Amazon cruise on Voyager tomorrow. A wonderful experience with the Voyager team. Until our next adventure in 2024!"
Billy M.: "A fabulous cruise on the Splendor. All staff were top-notch. A huge thanks to our butler, Glen. Simply the best!"
Rosemarie C.: "Regent offers an all-inclusive experience. In comparison, others just can't match the value."
---
Discover More With Regent: Dive deeper into the world of Regent with our exclusive content.