Looking for a honeymoon more unique than a week on the beach? Search no more. These blissful destinations are anything but ordinary.
ICEHOTEL – Sweden
The beauty of ICEHOTEL is that it is never the same place twice. ICEHOTEL is sculpted from ice gathered from the nearby Torne River. In addition, ICEHOTEL offers a combination of warm and cold accommodations. Without doubt, this ever-changing work of art is a breathtakingly romantic spot for couples who can stand the freezing temperatures to celebrate their honeymoon.
Free Spirit Spheres – Canada
Suspended in a coastal rain-forest on Vancouver Island, these treehouse pods sway quietly among the trees. For that reason, they offer views unmatched by any traditional accommodations. The cozy spheres are perfect for a couple seeking relaxation and privacy on their honeymoon.
Atlantis The Palm – Dubai
Atlantis is located on a man-made island called The Palm.  Atlantis boasts spectacular luxury suites. Specifically known for their signature Underwater Suites. You can enjoy the constantly changing scenery of over 65,000 marine inhabitants from your bed. For couples who prefer to stay above water, the Grand Atlantis and Royal Bridge Suites offer gorgeous views of the surrounding Arabian Gulf. A great honeymoon choice for couples who really want to go somewhere amazing.
Giraffe Manor – Kenya
Giraffe Manor is located within 140 acres of indigenous forest in Nairobi. Giraffe Manor is the perfect honeymoon destination for animal-loving couples. Resident Rothschild Giraffes roam the land, often poking their heads in the large windows hoping to score a treat from guests. Languish in your beautifully appointed guest room. When you are ready to explore, book a safari or helicopter tour.
Attrap' Reves Bubble Hotel – France
Have you ever dreamed of sleeping in a bubble? Attrap' Reves makes that dream a reality with their one-of-a-kind bubble suites. They are perfect for honeymoon couples who want to stargaze without worrying about bugs or wildlife. Most important, each bubble is at the end of a separate path from the main building, ensuring optimum privacy.
Hotel Parchi del Garda – Italy
Far from the traditional Italian vacation, Hotel Parchi del Garda is home to some of the world's only 4D experience rooms. Advanced software and animatronics created by Hollywood film set designers bring to life the sights, sounds, and smells of the surrounding theme parks, right in your personal suite. Fun-loving honeymoon couples will never want to leave this virtual wonderland.
Kakslauttanen Arctic Resort – Finland
For the ultimate in cold-weather accommodations, Kakslauttanen offers a variety of options. From an earth lodge wedding chamber, several log chalets, igloos (glass or ice), and even Santa's house. Some chalets have an attached glass igloo so couples can watch the stunning aurora borealis (northern lights) right from their cozy bed.
Seven Hotel Paris – France
Nestled in the heart of the City of Love, Seven Hotel Paris brings new meaning to modern luxury. Each of the 28 suites is designed in one of seven incredible themes. Some of the themes are 007, Marie Antoinette, and Alice in Wonderland (complete with Cheshire Cat). In-suite amenities include champagne, massages, and a midnight bath, among other romantic details.
Sala Silvermine Hotel – Sweden
Sala Silvermine is for couples who are definitely not claustrophobic. The mining suite at Sala Silvermine is the deepest suite in the world at 509 feet underground. Your overnight stay includes a guided tour of the mine, a gift basket of wine, cheese, and fruit, and breakfast.
Propeller Island City Lodge – Germany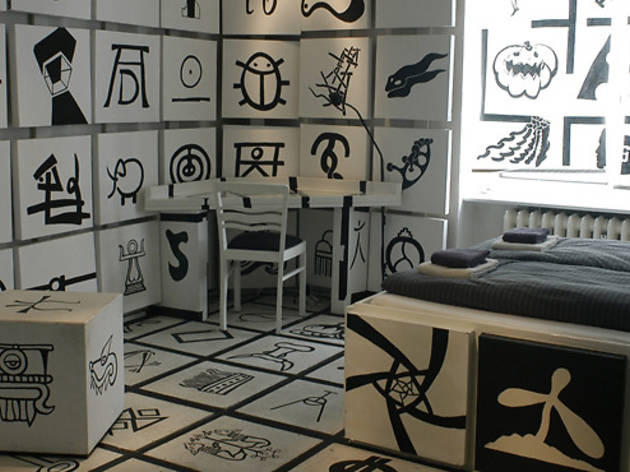 Berlin's Propeller Island City Lodge, is our top pick in terms of uniqueness. designed by artist Lars Stroschen, it has 30 one-of-a-kind rooms. Each room was created to give guests a truly memorable experience. Couples can choose to stay in an upside down room. Or guests can stay in a "kaleidoscope" room covered top-to-bottom with mirrors. For those wanting a night of horrors, a vampire room (yes, you will sleep in coffins). Or even, a padded cell. Some rooms may not be for the faint of heart!
Ready to start planning your unforgettable honeymoon? Contact Awaken Travels today!
Similar Posts: