Looking for honeymoon inspirations? Dreaming of something more memorable than a week on the beach? Search no more!
At Awaken Travels, we've come up with a dream list of honeymoon destinations that are anything but ordinary. We can't wait to show off our variety of unique and intriguing honeymoon spots.
We think we have thrown in something for everyone here, but if you know any secret spots we haven't heard about yet, please let us know!
ICEHOTEL – Sweden
A Swedish institution since 1989, the intrigue of ICEHOTEL is that it is never the same hotel twice. Sculpted from ice gathered from the nearby Torne River, ICEHOTEL offers a combination of warm and cold accommodations.
The ICEHOTEL 365 is a year-round hotel made of more traditional materials in case you want all the awesome of an ice adventure, but prefer sleeping in a traditional building.
The real draw here is certainly the ICEHOTEL Winter though. This ever-changing work of art is a breathtakingly romantic spot for couples who can stand the freezing temperatures.
A dozen or so suites are painstakingly handcrafted each year by artists chosen from a pool of hundreds of artists from around the world to have their work showcased in this everchanging venue. There is simply nothing like staying inside a naturally formed yet carefully crafted homage to the beauty and harmony of nature as well as human achievement.
Without doubt, this ever-changing work of art is a breathtakingly romantic spot for couples who can stand the freezing temperatures to celebrate their honeymoon.
Free Spirit Spheres – Canada
Suspended in a coastal rainforest of Vancouver Island, these circular treehouse pods sway quietly among the trees, offering views unmatched by any traditional accommodations.
The cozy spheres are perfect for a couple seeking relaxation and privacy amongst the trees. To truly settle your thoughts and live in harmony in the forest for a few days is a dream come true for many who have felt trapped by fast-paced city lives they have come to know.
Naturally and sparsely decorated, these pods are the perfect way to spend time with that special someone and focus on the bonds you have created together in this new step in your relationship.
A honeymoon in a floating treehouse bubble is a truly unique and beautiful way to spend time together. If it happens to rain, as it often does in this island rainforest, you are in for a treat. The gentle sounds of the rain all around you are absolutely magical.
Atlantis The Palm – Dubai
Located on the manmade island known as The Palm, Atlantis boasts spectacular luxury suites including their signature Underwater Suites.
Experience the ever-changing scenery of over 65,000 marine inhabitants as they pass above and all around you. A truly breathtaking honeymoon for couples who enjoy the majesty of the undersea world. Waking up to a whole ocean world passing above you is enough to make you never want to leave your cozy bed.
This is of course far from the only draw of a 5-star resort that takes up the entirety of an island in Dubai. You will have no trouble indulging any of your dreams and will have no problem staying busy whether you are here for a couple nights or a couple weeks.
Encounter dolphins, swim in the world's largest waterpark… yes, the world's largest… Meet sea lions, eat at Michelin restaurants, and shop to your heart's content.
If you and your partner love the oceans and the finer things in life, you will not regret choosing Atlantis to fulfill your honeymoon dreams.
Giraffe Manor – Kenya
Located within 140 acres of indigenous forest in Nairobi, Giraffe Manor is perfect for animal-loving couples.
If you have ever had a dream of living in a gorgeously appointed manor that appears to have come out of a storybook, this is your honeymoon spot.
If that storybook also happened to have giraffes that would wander in from the surrounding forest and stick their heads in the windows of this beautiful manner in hopes of a treat from the residents inside, this tale would be your honeymoon story.
Languish in your beautifully appointed guest room, or book a safari or helicopter tour to see more of the nature around you. Walk the grounds, spend time in the gardens inspecting the fresh herbs that may just end up in your meal tonight. Observe the wide variety of orchids being grown as well.
Truly a honeymoon unlike any other.
Attrap' Reves Bubble Hotel – France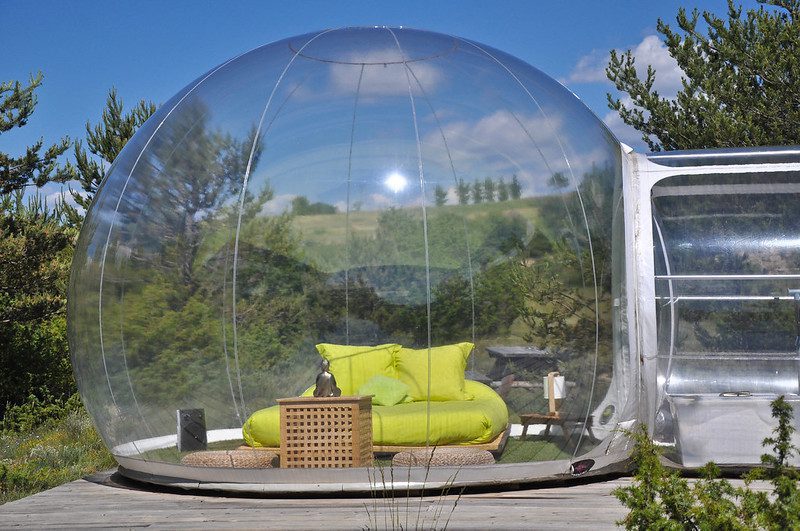 Have you ever dreamed of sleeping in a bubble? Attrap' Reves makes that dream a reality with their one-of-a-kind bubble suites.
This is truly a honeymoon in sync with nature. Except all the less desirable parts like getting cold, or stung by a mosquito, or any of that.
It is like being dropped alone, just the two of you, in a bubble into the middle of a French forest. With all the furnishings of a luxury suite. Because that is exactly what this honeymoon is. And it is simply amazing.
Perfect for couples who want to stargaze without worrying about bugs or wildlife, each bubble is at the end of a separate path from the main building, ensuring optimum privacy.
Ready to start planning your unforgettable honeymoon? Contact Awaken Travels today!
Similar Posts: