When organizing our own wedding, a major focus is on a wedding dress, of course. Right after the endless white gown ideas, browsing through bride magazines, online sites and fittings, organizing fun bachelorette and bachelor parties and recovering from the party, the focus passes on a wedding day reception. What kind of wedding dinner setting to choose, how to satisfy all our guests and most of all: how to make the best impression on our friends and relatives. Sounds challenging? It doesn't have to be. Here are some tips and tricks so the dining portion of your wedding will come out perfect. 
Reception time
We've all attended weddings and made a few mental notes about what we liked and what we weren't crazy about. But we all agree that no one should leave a wedding hungry or thirsty. It's fun to serve beautiful and tasteful nouvelle cuisine compositions on the plate, but quantity is also important for some guests. If you're more into minimalistic art on a plate, make sure on the other side of the room there's still a chance for "quantity" orientated eaters to grab something like an hor d'oeuvre.

Food stations are the new sit down 
Over the past few years food stations like dessert tables or snack buffets, have become more popular in wedding catering. Here's why: Your wedding day may keep going until the next morning and many enjoy a midnight snack. Food stations work well for this since it's simple to set out a few snack dishes as the night progresses. You can go for some fancy, simpler, traditional or nostalgic options or all of them. A fancy sushi and oyster table, traditional finger food with shrimp in cocktail sauce on the other side and exotic and international gastronomy will appeal to your more adventurous guests. It's up to you to decide what you want to serve and what your guests will enjoy! Refreshing drinks are a good idea, too, especially if people will be dancing the night away. Think lemonade, infused waters, or fun fizzy drinks.

Exotic, international, vegan, nouvelle, traditional or creative
Have you ever been to a wedding where fresh pizza from the oven was served? No? Would you like that? Who wouldn't! We all love pizza for any occasion, so why not be creative and hire an Italian pizzaiolo. Or hiring a wedding food truck!
Since no one should be left out, consider if you have vegan or vegetarian guests. Creating a vegan specialties finger food corner will be very appreciated. To avoid some trivial solutions like offering to your guests simple grilled veggies and some plain tofu and hummus, go for something more creative like vegan burgers or tacos with guacamole, baked tofu nuggets, falafel, vegan mac and cheese and so on. Be sure to label the foods safe for vegetarians and vegans.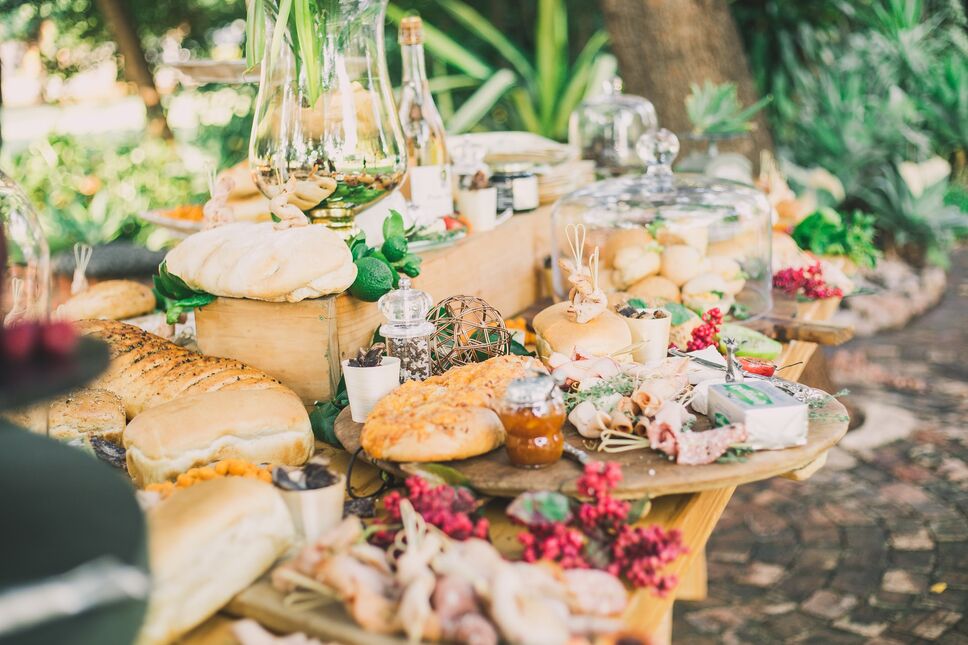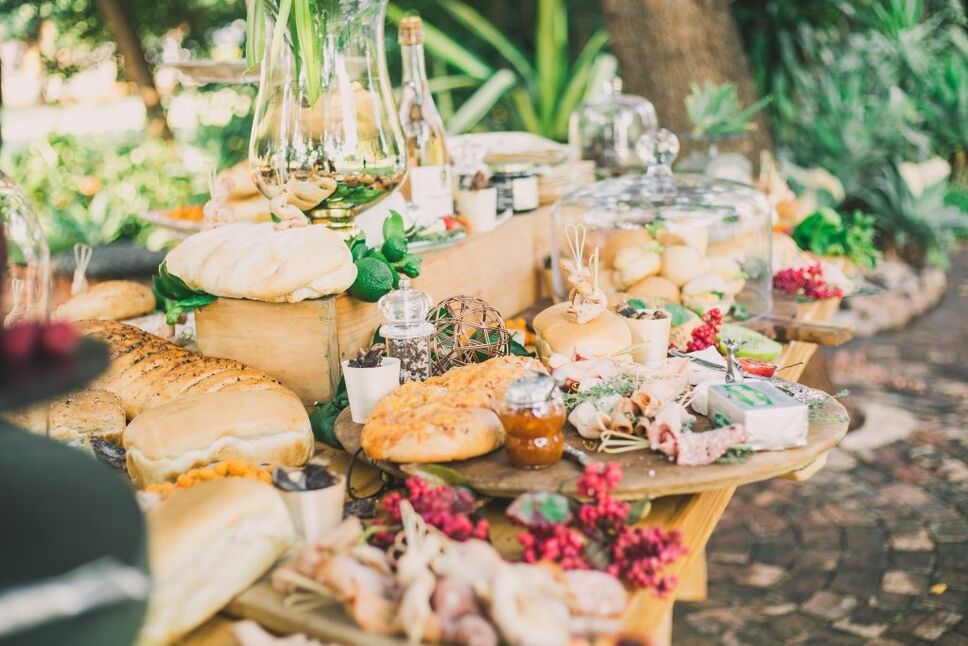 Do you think that by exotic we always mean something tropical or far eastern, such as a cocktail in a pineapple, pad thai or green curry? Not necessarily. What about specialties from small, far and less known countries or regions? With this action you also sustain some niche catering providers and at the same time surprise your guests. Imagine getting served a Sicilian cannoli or Slovenian walnut roll as a dessert? That would certainly be something special and memorable.
Traditional menus are also coming back and we are all very excited about it. Turn your wedding food station into a menu your parents or grandparents would have on their wedding day. A shrimp cocktail wouldn't be such a bad idea after all, if you think about a slight 70s touch. A good old sliced turkey and a roast beef would do the main course retro scenery perfectly. Don't forget trays of donuts filled with custard cream for dessert. 
Go with the style
Hopefully this gave you a bit of wedding food inspiration and insight. As always, style shouldn't be forgotten. Choose containers, cutlery, and tableware wisely and on theme with your food concept to make the space look festive. We also recommend adding height to your food station to create some extra visual impact. For this we go with cake stands, cutting boards or trays.

Planning your wedding reception menu?
We're here to help! No matter how big or small your wedding will be or what your budget is, we have great ideas to help your wedding menu stand out as awesome. Get in touch with us today and we'll get planning!
Similar Posts: