The Bahamas has always been a destination on the top of everyone's bucket list. With its tropical climate and sandy beaches, it's also the perfect place to hold your dream wedding. To help you bring your dream to life, here are some tips for planning your destination wedding in the Bahamas.
Pick the perfect island
Each island in the Bahamas is famed for its cerulean seas and sandy shores, but there are some  better suited for weddings. Grand Bahama is the most famous, and is home to the eclectic capital of Nassau. This means it has the best selection of resorts for weddings. Escape the crowds with a relaxed wedding in the Exumas, or go off the beaten track by holding it on Elbow Cay. Wherever you choose, you can be sure you'll be met with romantic scenery and sea views in the Bahamas. 
Give yourself enough time
Wedding planning can be fun, but it is also stressful. With a whopping 96% of couples feeling stressed with wedding planning, make sure you do all you can to make sure stress doesn't impact your wedding day. Much of this stress comes down to not having enough time to fit everything in. The simple answer to this is starting your planning as soon as possible. This is even more important when you're planning a destination wedding, so you can book the top resorts and the cheapest flights.

Send out the invites
The next step is to compile a guest list. Many couples choose to have a more intimate gathering in the Bahamas. Once you're happy with your guest list, send out invites to your loved ones. As you'll be having your wedding abroad, make sure to include details about flights, resorts, and some helpful tips about the Bahamas. It's also a fun idea to choose an invitation theme to reflect the destination or wedding colors. 
Book flights in advance
As with all flights, flights to the Bahamas are best booked in advance. To secure the best price, book at the sweet spot. This is usually  5-6 months before you fly. Cut down on costs even more by signing up to flight discount newsletters. If you're planning on traveling with family, it may be a good idea to book your flights at the same time, to remove stress of individuals booking alone. If one family member finds a good deal, it's best if everyone grabs it!

Suggest resorts for guests
Not every guest will book into your resort. Whether it be for budgeting reasons, or merely because they've left booking till the last minute, suggest some suitable alternatives for them to try. This may take a few minutes or even a few hours, but your guests will truly appreciate that you've gone the extra mile for them.
Secure your dream venue
It doesn't matter how many guests are attending, you'll want a beautiful venue to accommodate everyone. This could be as simple as a beachfront bar all the way to a high-class resort, the Bahamas is filled with wedding-friendly venues for every budget. Many couples like to take the stress out of planning by hosting their wedding at their chosen resort. With lodging, food, and entertainment all in one place, it's a great way to ensure your big day goes smoothly.

Make the most of the beach
A huge draw to having a Bahamas destination weddings is pretty simple: the beach. This iconic island archipelago has thousands of miles of pristine beaches, so why not make the most of them? Rather than having your wedding inside, hold your ceremony on the sand. To add some more romance to the day, consider having a sunset wedding. This way, you can catch some incredible shots to commemorate your special moment. 
Choose the right dress
When you're having a beach wedding in the Bahamas, you can't choose just any wedding dress. The tropical heat and warm sunshine mean a traditional, heavy dress may leave you feeling uncomfortable on the big day. Instead, choose a light dress with flowy and light fabric. Both elegant and comfortable, it's a great way of adding a bohemian feel to the day. If you still want your dream dress, try having separate ones for the ceremony and reception.

Embrace a neutral color scheme
Every wedding needs a classic color scheme, and your Bahamas celebrations is no exception. Though you may wish to have a few pops of color in your décor, it's best to keep it simple. Make sure you choose a timeless, neutral color palette for your bridesmaid dresses, flowers, and pocket squares. If you're unsure of which colors to choose, ivory, champagne, and peach are current popular options. 
Don't forget the honeymoon
No destination wedding is complete without a luxury honeymoon to top it off. After the excitement of the big day, make the most of your first vacation as a married couple by soaking up some more sunshine.
Instead of staying in the Bahamas, why not make the short trip to Jamaica. Having a beach vacation in Jamaica is the perfect way to kick-start married life with the one you love, thanks to its sandy beaches, sea views, and incredible food.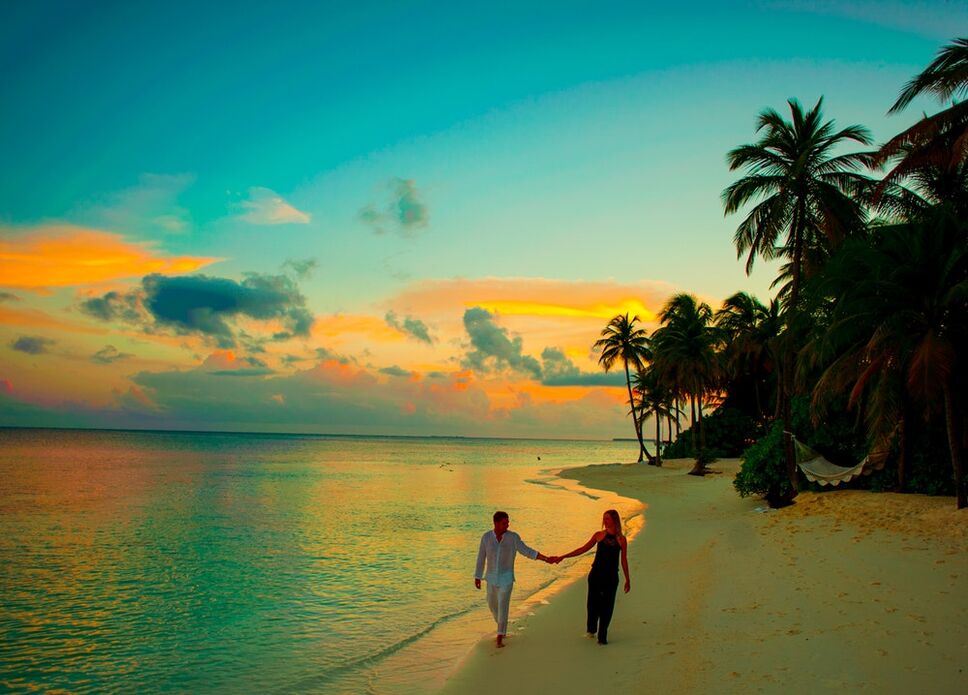 Thinking about having a destination wedding?
We're destination wedding experts and can help make your planning simple and stress-free. We love the Bahamas and would love to help you plan your perfect wedding! Let's get planning!
Similar Posts: