St Lucia 10 Year Anniversary Trip
Booking Notes:
10-year anniversary vacation to the island of St Lucia
flexible dates from April 18-May 10th.
Sandals Grande St Lucian Spa and Beach 5 nights, club level room.
then 3 nights at Jade Mountain.  "sky" room and the next room up (star) that features an In-room swimming pool.  The highest room, closest to the Piton Mountains.  At the Jade,  "BREAKFAST/DINNER" option, no alcohol.
Flight arriving into St Lucia between 11am-2pm, with the max of 1 stop with least amount of layover time.
Flying home don't want to leave the island prior to Noon, and again only want 1 stop and the least amount of traveling time back to Phoenix.
Maybe helicopter from airport to resort
Travelers names are Gabriel Trevizo, Cindy Trevizo
Leaving from Sky Harbor, Phx, AZ.
---
I do write personal letters to resort managers in order to get any upgrades and VIP treatment for my clients. Upgrades cannot be guaranteed and will not happen until arrival. Because you are traveling during peak season it may not be possible because most of the rooms will be booked.
I have quoted using a supplier who does not list the prices separately even for me. I did quote this same package with another supplier and it was over $2k more through them so I am confident you are getting an amazing price.
---
Dates of Travel April 29th to May 7th
Flights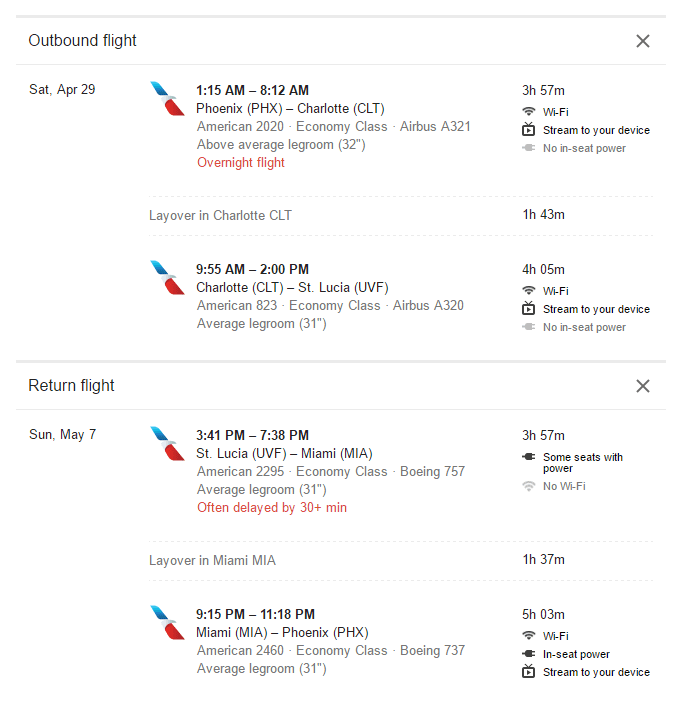 ---
Sandals Grande St. Lucian 6 Nights from April 29th to May 5th
Room Category: Caribbean Honeymoon Beachview Penthouse Club Level Room
This luxurious penthouse is located on the third and fourth levels of the Bonne Terre, Cap Estate, Massade, Pigeon Island and Rodney Bay buildings and features a private balcony overlooking Rodney Bay, the resort's manicured gardens and pool. An elegantly appointed interior features a four-poster, king-size bed, a cozy seating area, flat screen TV, and a fully stocked bar. The en-suite bath boasts either a shower/tub combination or shower only. Guests also enjoy Club Sandals concierge service including assistance with reservations and preferred check-in.
Jade Mountain 2 Nights from May 5th to May 7th
SKY SANCTUARY EP Plan (Will Need to upgrade to Breakfast/Dinner with Resort for $480 for 2 days includes taxes & fees)
The 5 SKY jacuzzi suites are located on the lower hillside level of JADE MOUNTAIN. The SKY suites feature large jacuzzi tub for 2 persons but they do not have a private pool. The sky jacuzzi suites feature 15ft high ceilings and have the 4th wall open to the views yet are completely private. The suites average about 1650 square feet. The SKY suites feature a two level room layout, with a large and comfortable living space and open bath design, with the raised Jacuzzi tub towering above the living space, open to the views. One of the sky jacuzzi suites situated on the north-east corner has windows and air-conditioning. This unit can be requested when booking a sky jacuzzi suite.
---
Air, Hotel & Pre-Departure Protection Waiver Price: $9,757
Price is subject to change until deposit is made and not guaranteed.
---
Helicopter Shuttle: $165 per person from UVI to SLU Airport
Resort Transfers:
Private One-Way private transportation cost from SLU  to Sandals Grande for 2  passengers comes to a total of U.S $25.00. (note cost is total and not per person)
Private One-Way private transportation cost from Sandals Grande to Jade Mountain for 2  passengers comes to a total of U.S $70.00. (note cost is total and not per person)
Private One-Way private transportation cost from Jade Mountain to UVF for 2  passengers comes to a total of U.S $65.00. (note cost is total and not per person)
Here is what's included in the price:
Private Air-Condition Vehicle
Discount on Return Transfer
Intelligent flight  monitoring
Complimentary mineral water upon arrival
Total with Breakfast & Dinner upgrade at Jade, Helicopter to Sandals Grande, and Transfers: $10,727