Wedding season is upon us. With the cooler weather and regular weddings, we've been debating between destination weddings and traditional, at-home weddings and which is cheaper. The average spent on weddings in the U.S. has increased to over $26,000. With those costs, destination wedding popularity has grown over 400%. But, which is cheaper?

Traditional At-Home Wedding
One of the biggest draws of a traditional at-home wedding is that nearly everyone invited is able to attend. You'll be able to share your special day with everyone that is important to you. However, the larger the guest list, the larger the price tag on reception costs.
In many metropolitan areas, venue sites can increase wedding costs dramatically. Everyone wants a beautiful wedding they will remember forever. The venue site is a major part of those memories but is also costly.
With at-home weddings, the logistics tend to be much simpler than at destination weddings. Hiring a wedding planner is still common, but not necessary. However, with destination weddings, having a wedding planner is essential in order to handle all of the logistics, vendors, and any legalities.
Things you'll need to purchase:
Bride's dress and groom's tux
Bridesmaid and groomsmen outfits, unless asking your bridal party to purchase attire
Venues: usually the ceremony and reception venues are separate and each has their own costs
Reception: Venues generally charge per seat. The more guests you have, the more tables, chairs, charger plates and tablecloths you need, quickly increasing your costs.
Entertainment: DJ or Music
Food and drinks: open bar increases prices. A cocktail hour during your photos provides an additional cost on top of the dinner
Flowers and decorations: you'll need your bouquet and flowers and boutonnieres for the wedding party and parents. Flower decorations for the venues will be an additional cost.
Photography: photographer packages is major cities can be very expensive
The grand total for average US weddings: $26,000
Destination Wedding
Population destination sites internationally are the Caribbean and developing countries (like Guatemala). Weddings in the Caribbean are popular for a reason: they have beautiful backdrops, honeymoons are built-in, flights are quick and cheap and there is little to no legal requirements to get married.
Planning a destination wedding is much simpler than traditional at-home weddings. Resorts that host weddings, like Sandals, have wedding packages that include wedding planners, cakes, and photographers. Having a destination wedding, your venue is the scenery. Whether it is snowy mountain peaks or the turquoise blue ocean of the Caribbean, your venue is built-in to your destination. It is less likely you will need to spend money on decorating the site with such idyllic backdrops.
Destination weddings keep guest lists smaller, which keeps the overall cost lower. The largest percentage of wedding costs are spent on the reception. With a smaller guest list, these costs decrease.
Guests pay for their own flights, hotel, and activities outside of the wedding day; unless you decide you want to cover some of the expenses for them. Destination weddings afford couples the opportunity to be flexible with their budgets. Oftentimes, couples are able to offer open bars, cocktail hours or top-of-the-line dinners when otherwise it wouldn't be possible.
Things you'll need to purchase:
Bride's dress and groom's tux
Bridesmaid and groomsmen outfits, unless asking your bridal party to purchase attire
Venues: ceremony and reception site will likely be at the same place, decreasing expenses
Reception: Venues may still charge by the seat. But, with a smaller guest list, the price is lower
Food and drinks
Flowers and decorations: No need for flowers to decorate. You'll still need all the bouquets and boutonnieres, but they are likely included in your package already.
Photography: likely already included in your package
Passports if you don't have them already
Visas or marriage requirements: some countries require a visa or various legal requirements for an international wedding. Most Caribbean countries don't have many if any, requirements and most resorts will take care of this for you.
Grand total for average Caribbean wedding: $6,000 
Destination weddings, particularly in the Caribbean, are significantly cheaper than at-home weddings. Even if couples decide to cover costs for their guests or spend extra for more photos or other special touches, a destination wedding is unwaveringly cheaper than an at-home wedding. Destination weddings also provide a once in a lifetime experience to make your wedding day even more memorable. Contact us today to begin planning your special day in the Caribbean!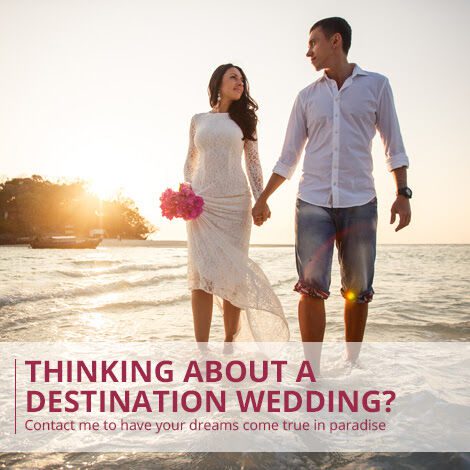 Similar Posts: