Thinking about celebrating your nuptials abroad? You're not the only one. Destination Weddings have always been popular among couples about to tie the knot, and for good reason. Destination Weddings can (surprisingly) be less expensive than a traditional wedding while doubling as a vacation for guests and a honeymoon for the newlyweds. Let's take a look at some Destination Wedding trends.
Destination Wedding Trends: Beaches continue to be the most popular locale
Top destination wedding locations continue to be beaches in countries like Mexico, Costa Rica, and Jamaica; however, more adventurous couples have opted for more exotic locations such as Canada, Italy, or Iceland. LGBTQ couples have found that countries like South Africa, Ireland, and Spain are perfect for same-sex weddings.
Destination Wedding Trends: Smaller guest lists make for a cozier ceremony
The average destination wedding has just 28 guests, making the "I Do's" more intimate, shared with only close friends and family. This average is actually larger than destination weddings in the past but is still significantly smaller than the average guest list for domestic weddings. And thanks to many resort venues offering on-site childcare, approximately 88% of destination weddings have children on the guest list.
Destination Wedding Trends: Prices are staying consistent
The cost of at-home weddings has increased by over $5,500 in the past five years. The average cost in 2015 was over $32,000! On the other hand, destination weddings have consistently stayed under $10,000 for more than a decade. It's no wonder that more couples than ever are taking advantage of the lower cost of a destination wedding. Utilizing locally sourced foods and flowers helps keep costs low, as do all-inclusive resorts.
Destination Wedding Trends: Decor is rustic with a pop of color
Gone are the days of the shabby chic wedding. This year, it's all about natural touches (think wood, stone, and quartz) and bold colored accents.
Destination Wedding Trends: Dresses are becoming less traditional
While many couples are choosing to go with the simpler decor, the trend in dresses has been MORE. More drama, more embellishments, more color. Even grooms are getting in on the trend with white suits, colorful shoes, and fun ties.
Destination Wedding Trends: Paper and pen are out, apps are in
With the advent of the smartphone, traditional wedding planning (flipping through bridal magazines, having guests RSVP by mail) has taken a backseat to the multitude of wedding planning apps available. Appy Couple allows couples to make their wedding planning public to family and friends AND lets guests RSVP and make travel plans right from the app. Zola puts a twist on a traditional registry by allowing couples to add a honeymoon fund or other experience to their registry, rather than the normal flatware and china. Wedding LookBook by The Knot is a treasure trove of dresses and rings for any bride. So whether it's choosing a cake, finding a caterer, or budgeting, there's an app for that.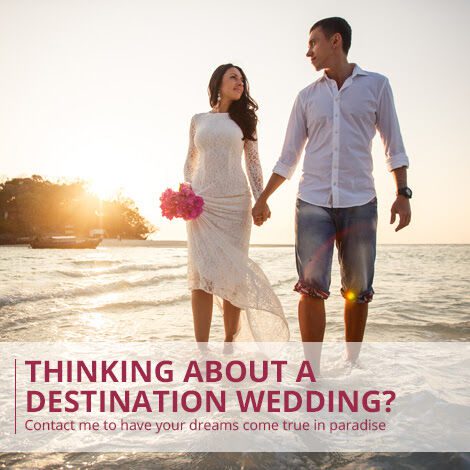 Similar Posts: